Welcome to A Girl From TX!
Your guide to Austin, Dallas, Houston + Everything in Between
Here is your ultimate Austin Weekend Guide – mix and match what sounds good to you and comment below if you want to add something to our list! We always love new suggestions.
What To Do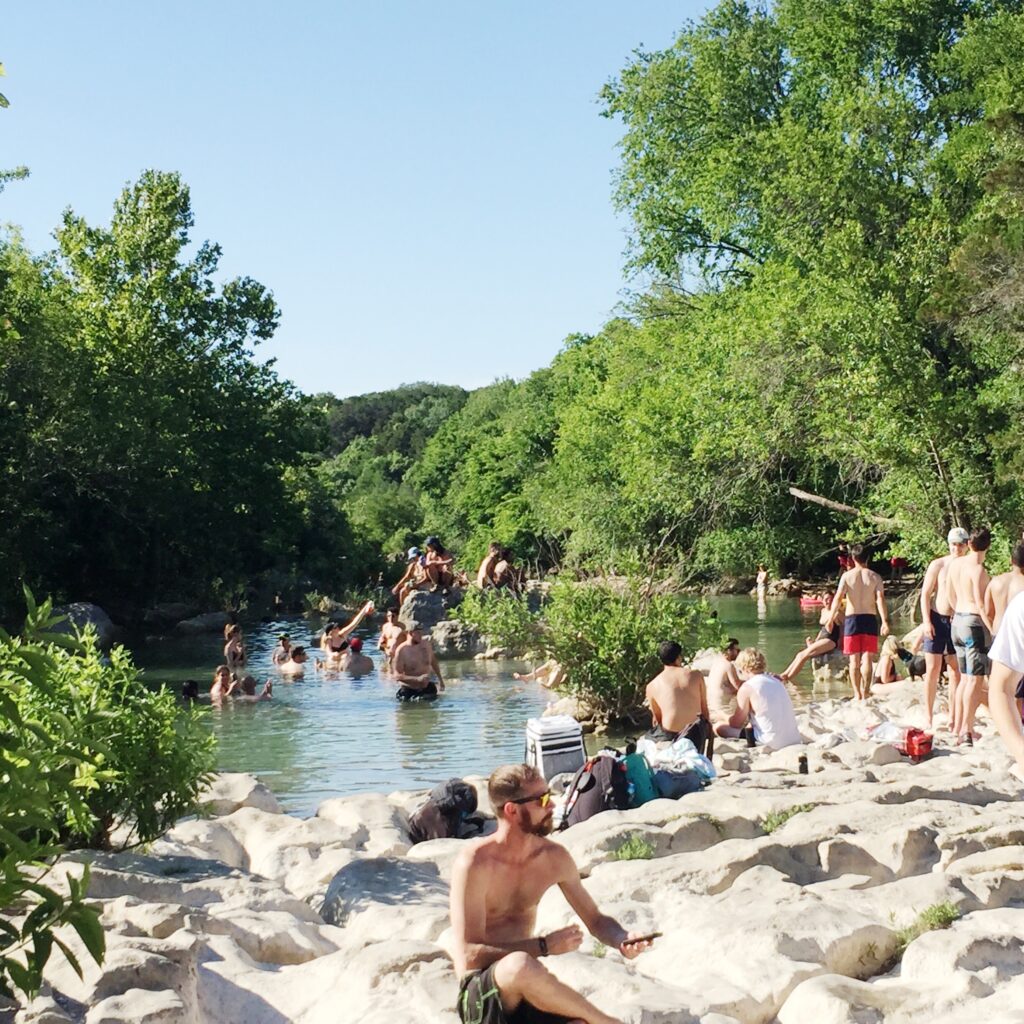 Greenbelt – Twin Falls
If you're wanting a place to chill with a beer and some friends, head to Barton Creek instead of Barton Springs! You can relax by the water, drink some beers, and jump off some rocks if you're feeling bold!
Our favorite is Twin Falls because of the whole jump-off-rocks part. Park at the "Gaines Creek and Twin Falls Access Point" and follow the trail on your right all the way to the Falls. It's about a half mile walk through the trail, and you'll know when you're there!
Barton Springs Pool
If it's a hot day, go keep cool at Barton Spring Pool! Half public pool, half river, 100% will keep you cool on a hot day.
Beware: you cannot bring alcohol here and they do check.
Visit Austin's Graffiti Park
Make sure you stop by Hope Park at 1101 Baylor St. off Lamar to get a good photo!
If you want to be artsy, make a pit stop at the store to grab a can of spray paint and add your own design.
Walk Ladybird Lake Trail 
Prime spot for gorgeous views, sunsets, bat watching, and nice walks. Ladybird Lake Trail has one of the best views of Downtown, and you can park yourself by Congress Bridge to watch the bats fly out (Late Summer – Early Fall).
We recommend parking by Auditorium Shores as it's the easiest access point with the best views.
Paddleboard on Lake Austin
It's on every Austinite bucket list and it must be done if the weather is right!
You can rent Kayaks or Paddleboard from SUPATX rentals (our personal favorites).
Visit Mount Bonnell or 360 Bridge
You really can't go wrong with either view. Contrary to popular belief, Texas does have hills and they can be spotted in Austin! Take a small trek up the hill for some stunning greenery shots of Austin. Picture-perfect moments and sunset spots.
Walk around South Congress
As Austin as it gets. Check out some of the shops on South Congress, and easy spot to wander for a few hours.
Also, hope of the "i love you so much" mural you HAVE to get on your Instagram.
 Brunchin' 
Bangers Brunch
Famous for their delicious German sausage brunch & Sunday manmosas! Afterwards, you can walk along Rainey St. and enjoy the other local stops. Make sure you go at 10am when it opens to avoid a very very long wait.
24 Diner
If you are going for that old school diner vibe, then 24 Diner is your best bet! Delicious brunch classics with great prices. You can't go wrong with 24 Diner.
Irenes
Keep it light, healthy, and Instagrammable at Irene's on 6th.
Hillside Pharmacy (Healthy Brunch)
If you're looking for healthy,  vegetarian, or vegan options then Hillside should be your go-to. Extremely cute, extremely healthy. Win-win here!
View Hillside Pharmacy on Yelp
Lunch Time 
Franklin BBQ
Arguably one of the best BBQ joints in the world. Even Obama had to spot by! BBQ lovers start lining up around 7am for their world famous brisket. Come prepared with some lawn chairs (they have some, but best be safe) and some beers and wait it out. Another Austinite bucket-list item, but be prepared that you'll be here from 7am-1pm or so.
The Picnic Food Trucks
Food trucks are classic Austin. Although they're more common now in other cities, we take pride in being one of the first to have them so commonplace. Imagine all those trucks in one spot!
Gordoughs
How do you feel about donuts? Good? Great? If you're a donut lover, check out Gordoughs! They find a way to combine everything on the menu with donuts. I promise, it's better than it sounds.
P. Terrys
Fast food, but better. P. Terry's is our local-only burger joint made of entirely local ingredients. If you want cheap, fast, and delicious then this is your best pick! Plus it's in multiple locations, so it's easy to find one nearby.
Dinner & Drinks
Freedmen BBQ
If you're craving delicious BBQ but don't want to stand in line for six hours at Franklins, then I highly recommend Freedmen BBQ! Located in West Campus by UT, this always tops my list.
Hopdoddy Burgers
Once an Austin-only gem, this burger spot usually has a long line out the door so you KNOW it's delicious. If you're down by South Congress then we recommend a stop here for some grub! Prepare yourself for a slight wait, and make sure you pick up their parmesan fries!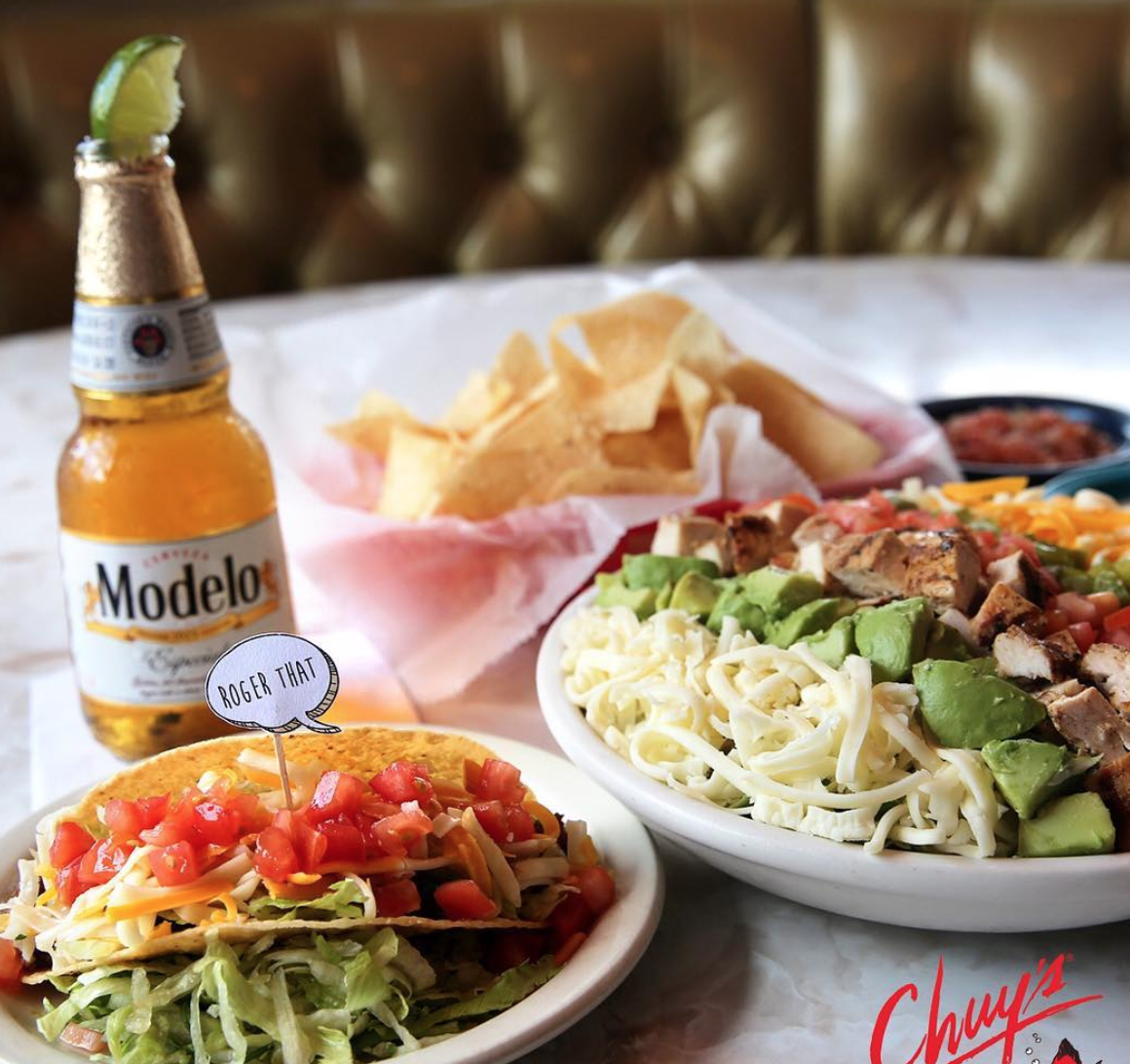 Chuys for Margs & Queso
Margs on Margs on Margs, oh and free queso during happy hour. Need I say more?
Trudys for Mexican & Margs
If you're not from Texas then Tex-Mex should be a must on your list! Hit Trudy's for those fishbowl margs, some delicious queso, and endless Tex-Mex.
Going Out
If you're over the age of 21, then you can't miss out on Austin nightlife. Sixth street could rival Bourbon St, Rainey turned houses into bars, and West turned Capri Suns in alcoholic drinks. It's a win no matter which you're feeling.
Rainey Street
If you're looking for a great night but don't feel like pounding shots, then Rainey is the spot for you.
Our favorites are Container Bar, Half Step, and Icenhauers.
Sixth Street
Or, as the locals call it, Dirty Sixth. An entire street filled with some very packed bars and very drunk college students.
Make sure you start at Chupacabra and order a fishbowl marg, and beware that it's the size of your head. Afterwards you can check out some of our favorites: Maggie Mae's, Cheers, Trophy Club (for the mechanical bull), Barbarella, or Recess. Your last bar should be Buckshot where you top the night off with a Colt .45 shot, and make sure to grab some pizza from Ropollos before you Uber back!
West Sixth
West Sixth is much like Dirty, but with an average age above 21.
Our favorites are Kung Fu Saloon for the games, Greenlight Social for the Capri Suns, Concrete Cowboy for the dancing, and RIO because it's simply a classic.
Pin It For Later